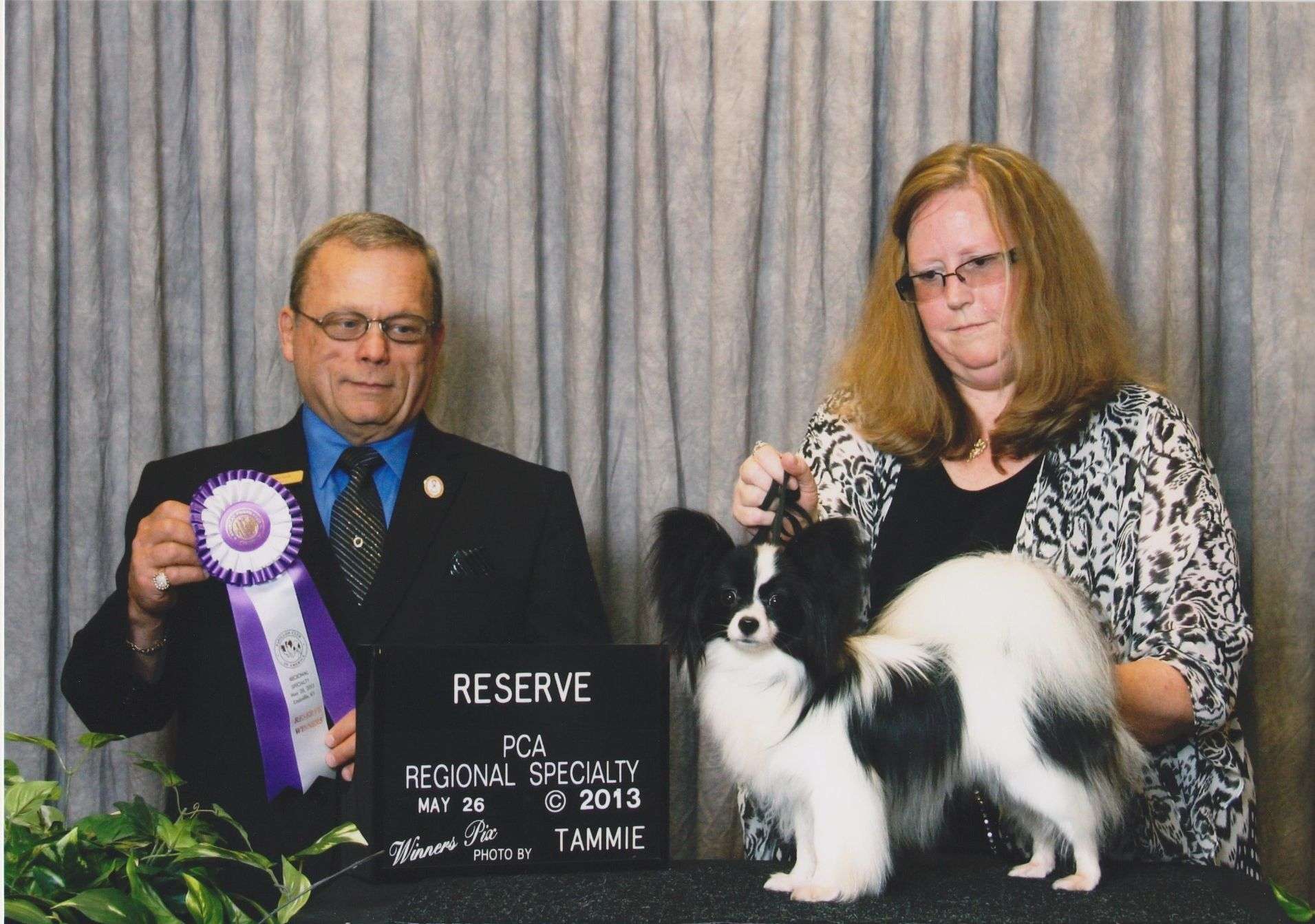 Mistaya came to us from Karen Murad of Krystal Papillons who is her breeder and co-owner.
I picked Mistaya up at the 2013 PCA National in Louisville, KY and it was love at first sight. Already gorgeous at 11 months old, she showed like a champ for me and placed most of the days of the specialty in her large 9-12 month puppy class. On the last day, at the PCA Regional Specialty, she won her class and was Reserve Winners Bitch in an entry of 40 bitches!
Upon our return to Florida, she quickly began earning points. In Atlanta, GA in October 2013, she won big back-to-back majors finishing her championship with Gina Cobussen handling her to her wins. It was a wonderful birthday present for me! After a break, she then went on to complete her Grand Championship finishing in June of 2014.
Mistaya is not only beautiful but has the sweetest, happiest, most gentle temperament. She is a joy to be around!
Mistaya now lives in St. Petersburg with her best friends Audrey and Rumor.
CAN CH

Ringlands Golden Image

GB CH

Ringlands Hologram

AM GB CH

Ringlands Copyright

Ringlands Heritage

Ringlands Latest Edition

Ringlands Sandy's Girl

Lynlight What The Heck

Barallan Calico Girl of Ringlands

Ringlands Sovereign

Ringlands Acid Jazz

Ringlands Legacy

Ringlands Elegant Elle

GB CH

Ringlands Treasure Trove

AM GB CH

Ringlands Copyright

GB CH

Ringlands Stella Star

AM CH

Krystal Circus Circus

AM CAN CH

Blairwynn's Lord Nelson

AM CH

Blairwynn's Frankly My Dear

AM CH

Deusjuvat Chief At Pixiedust

AM CAN CH

Cornsilk's Alliance of Blairwyn

AM CH

Candygolds Mette Marit

DK FIN SU NU NORD CH

Denemore Noble Perfection

Menine's Blue Revolution

AM CH

Krystal Sonrisa

AM CH

Serenglade Blue Tango

Serenglade Sakima

Inixia Precious Jewel

AM CH

Krystal Diamond Casino

AM CH

Sunbelt's C E O

AM CAN CH

Krystal Spirit Dancer