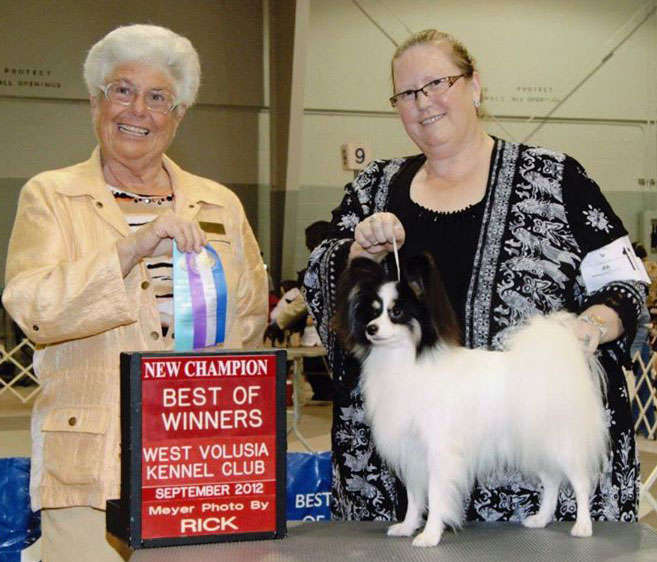 AM CH
Baypalms Forevr Southern Scoundrel
Gender: Male
DOB: 30 May 2010
Call name: Rhett
Owner: Lori Landis
Breeder: Lori Landis & Ruth Ann Ford
Handler: Gina Cobussen
Rhett was born on Memorial Day weekend in 2010. He was one of 3 boy puppies in my first home bred litter and is my first home bred Champion.
His father is Flynn and he looks just like his beautiful daddy.
Rhett is a tall boy and is a wonderful example of a larger Papillon who retains fine bone and breed type.
Both his majors and many of his points were won on the end of handler Gina Cobussen's lead and I am grateful for her wonderful care of Rhett.
Needing only one point to finish, I took him to Deland, FL in September of 2012 and Rhett won Best of Winners finishing his AKC Championship. He also won Best Bred By Exhibitor that day.
Rhett is now owned and adored by his best friend Natalya and her husband Oscar.
I could not ask for a better home for him. They were meant for each other!
AM GCHS

AM CAN DK FIN CH

Queen Bless JP Royal Connection

AM CAN CH

Ringlands Disco Dan

AM GB CH

Ringlands Copywriter

IR CH

Serenglade Sica Sue

JP CH

Queen Bless JP Best Magician

AM CAN FIN INT JP SU

Magical Gordon of Art Etoile

Queen Bless You of Art Etoile

AM CH

Forevr Greta Garbo

AM CH

Lyndylore's Black Russian

AM CH

Stouravon Planters Punch

AM CH

Lazybonz Gaea of Lyndylore

AM CH

Cadaga Starshine

AM CAN DUTCH INT CH

Loteki Supernatural Being

Deanna's Krystal Tiffany

Forevr Southern Belle

AM CH

Forevr Longwing Bama Jubilee

Forevr Jingle All The Way

AM CH

En-la's Bravissimo

AM CH

Riegel Lyndylore Pretty Woman

Forevr Name That Tune

AM CH

Lyndylore's Black Russian

Laser's Mi Vida Loca

Forevr Celestial Serinade

AM CH

En-la's Bravissimo

AM CH

Paraja's Obsession For Laser

AM CH

Envy Ears For Cheers

Forevr Celestial Dragon

AM NZ CH

Forevr Dragon Fire

AM CH

Anchor High Society