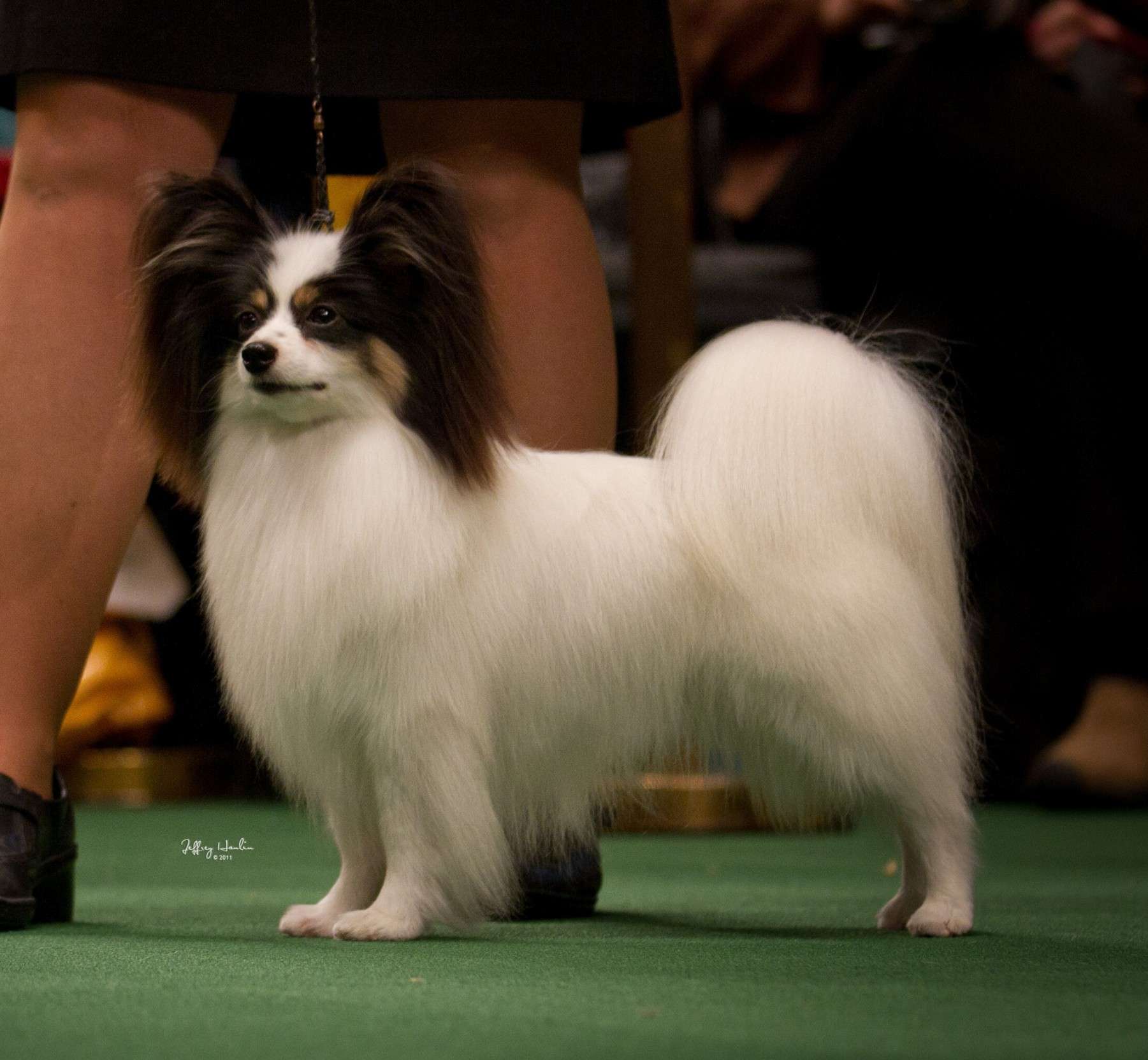 Queen Bless JP Royal Connection
Gender: Male
DOB: 8 June 2005
Call name: Flynn
Owner: Lori Landis
Breeder: Danny R Ford II & Ruth A Ford
What an amazing little dog! Flynn is a multiple Best in Specialty Show and multiple group winning Papillon. He was the #3 Papillon in the USA for 2010, the #5 Papillon in USA for 2009 and the #10 Papillon in USA for 2008.
Flynn gave me a night to remember when he became the 2010 Westminster Kennel Club Best of Breed and Toy Group 4th Place winner.
He was one of the first two Papillons to earn a AKC Grand Champion title. Both dogs earned the title the same day.
As a class dog, Flynn received his first major from the 6-9 month puppy class and his second from the 9-12 puppy class. He also received a puppy Group 2 placement. He finished in style with a 5 point major winning Best of Breed over 6 specials at just over 1 year old.
Flynn was owner handled to his championship and for most of 2008 and was handled by Jane Alston-Myers for his specials career.
Flynn is now retired and spends his days sleeping on the couch and playing with his toys. Even though he is getting older he is still very active and playful.
He has won Veteran's Toy Group Firsts in Deland and West Palm Beach. In addition, he was Best Veteran at the AKC Eukanuba Championship and the PCA Regional Specialty in Orlando in December 2014.
Flynn has a love for the show ring that can't be taught.
I can't thank Ruth Ann and Danny Ford enough for sharing this beautiful boy with me.
AM CAN DK FIN CH

Queen Bless JP Royal Connection

AM CAN CH

Ringlands Disco Dan

AM GB CH

Ringlands Copywriter

AM GB CH

Ringlands Copyright

Alcala Symphony At Ringlands

IR CH

Serenglade Sica Sue

IE CH

Ringlands Brandy

Alcala Shady Lady At Serenglade

JP CH

Queen Bless JP Best Magician

AM CAN FIN INT JP SU

Magical Gordon of Art Etoile

Queen Bless JP Cilenzio Magic

Queen Bless JP Miss Pure Cherry

Queen Bless You of Art Etoile

GB CH

Nouveau Lord of The Dance

GB INT JAP CH

Gonmyn Inspiration

AM CH

Forevr Greta Garbo

AM CH

Lyndylore's Black Russian

AM CH

Stouravon Planters Punch

GB CH

Stouravon Cointreau

Stouravon Gay Girl Jill

AM CH

Lazybonz Gaea of Lyndylore

AM CH

Berman's Roi-L Wee Willie Winkie CD

AM CH

Cilloette Anisette

AM CH

Cadaga Starshine

AM CAN DUTCH INT CH

Loteki Supernatural Being

AM CH

Loteki Supercharger

AM CH

Loteki Denzel Fortuneteller

Deanna's Krystal Tiffany

AM CH

Burghbridge Go For Gold At Bonifee

Krystal Chuchi