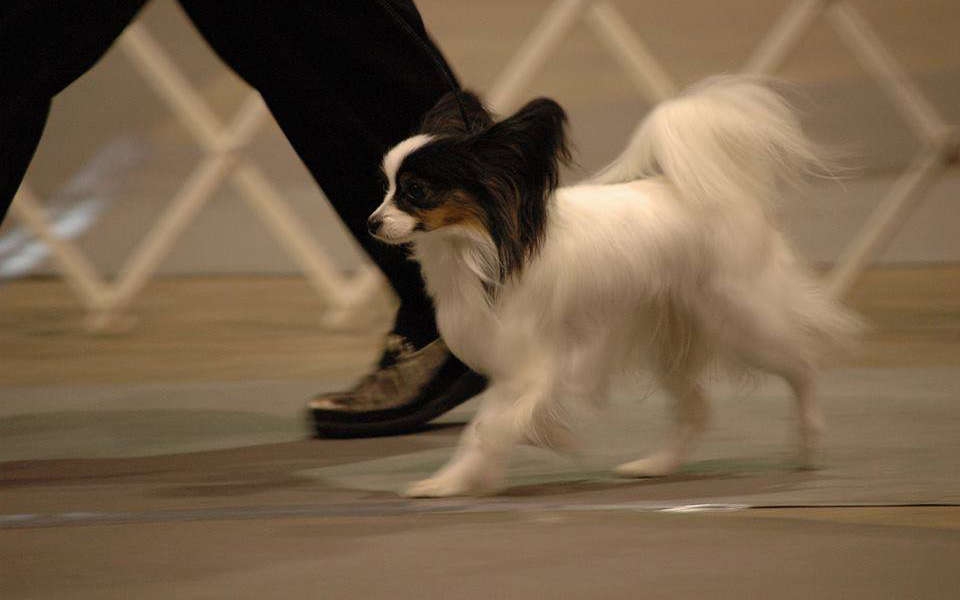 AM CH
Draco Dream Realized At Baypalms
Draco Our Outlaws Sarahnade
Gender: Female
DOB: 29 July 2011
Call name: Liza
Owner: Lori Landis
Breeder: Anita Wright
Liza came to us from my good friend Anita Wright of Draco Papillons. She had used Flynn for stud service with her girl Sarah and there were two beautiful girls. I was so thrilled to get this adorable tri-color girl who has the prettiest ear fringe.
She finished her championship with the help of handler, Gina Cobussen, and has a few points toward her Grand Championship.
Liza is quite the princess and has me wrapped around her pretty little paw. Liza had three litters which were all girls and is now living a life of retirement here at Baypalms. Two of Liza's girls, Doozy and Josie are Champions and her girl Bonbon is a Grand Champion.
AM GCHS

AM CAN DK FIN CH

Queen Bless JP Royal Connection

AM CAN CH

Ringlands Disco Dan

AM GB CH

Ringlands Copywriter

IR CH

Serenglade Sica Sue

JP CH

Queen Bless JP Best Magician

AM CAN FIN INT JP SU

Magical Gordon of Art Etoile

Queen Bless You of Art Etoile

AM CH

Forevr Greta Garbo

AM CH

Lyndylore's Black Russian

AM CH

Stouravon Planters Punch

AM CH

Lazybonz Gaea of Lyndylore

AM CH

Cadaga Starshine

AM CAN DUTCH INT CH

Loteki Supernatural Being

Deanna's Krystal Tiffany

AM CH

Draco Our Outlaws Sarahnade

AM GCH

Zelicaon Butch Cassidy At Draco

AM CH

Monarch's Mighty Titus By Sandel

Sandel's Leonardo Voncross

Zelicaon Summer

AM CH

Greg-Mar Fluttering Zelicaon

GB JAP CH

Nouveau Lord of Misrule

Future For You Of Art Etoile JP

Startymes Breakfast At Tiffanys

AM CH

Sandel's Ransom of Monarch

AM CH

Jeja's Nato

Voncross New Days Dawn

Tiffany Maria Sirrah

Toymaker's Valentino

Isis Ziaty Krystal